The Privacy Kit will guide you through the EU GDPR easily and in an organized manner.
Privacy Kit – Our offers
Privacy Kit
"Full flexibility"
1 Year
minimum contract period
€ 590 / per year plus VAT.
Privacy Kit
"Cost-effective data protection"
3 Years
minimum contract period
€ 390 / per year plus VAT.
(Billing in advance for 3 years)
---

What does the Privacy Kit contain?
Access to our EU GDPR software
Numerous sample templates
Version controlled management of your documents
Appointment of an external data protection officer
Folder with all documents and templates
Individual eLearning trainings for your employees
Additional free webinars every 6-8 weeks
Newsletter with current changes in data protection
Advertising material
---
EU GDPR Software? Just test it!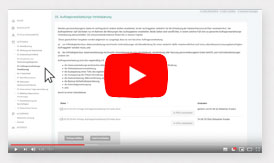 ---
Privacy Kit - These are your advantages at IITR
We offer you an optimal service for the implementation of the EU General Data Protection Regulation:
Free webinars every 6-8 weeks
Available languages: all documents in the Privacy Kit in English and German
Ongoing updates
Competent contact persons
Discount for recommendations
Our Privacy Kit - This is how it is structured: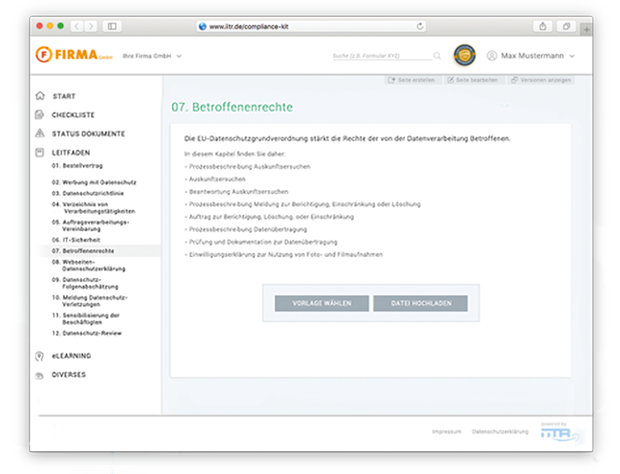 Incl. files with explanatory documents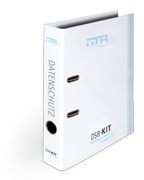 Certification status
See if your company has satisfied all necessary requirements for certification. The audit is performed by the independent IITR Cert GmbH.
Version control
Changes to your documents are saved in accordance with the statutory requirement by means of version control so that they can trace any changes.
Easy to use
The Privacy Kit provides you with all necessary documents as templates. Any documents that your company already has can be added.
Choice of language
Contents are available in English and German.
eLearning
Access to data protection training for your employees. Employee training is a meaningful requirement under the EU GDPR.

The data protection guideline
The general regulation requires that small companies to create a data protection guideline, which sets down in writing how your company handles data protection.
Overview of all required documents
Maintain an overview of the current processing status of the documents required under EU GDPR, e.g., data processing contracts or procedure registers.
Checklist
This checklist will help you determine and track your current data protection status.
---
Privacy Kit - These topics are covered
We cover these topics of the EU GDPR with our Privacy Kit:
Data protection guideline for your company
Records of processing activities
Processor Agreements
IT Security
Rights of data subjects
Website Privacy Policy
Privacy Impact Assessment
Data Breach Reporting
Awareness Trainings for employees
Annual Privacy Review
---
This is how the IITR ordering process works
1. You order a Privacy Kit from us.
2. We will send you your contract by e-mail, which you sign and return to us. You will then receive the invoice from us.
3. After receipt of payment, we will create your account for the EU GDPR software and send you the folder (including countersigned contract, certificate and advertising sticker). You will receive the login data by e-mail from us.
4. Now you can edit the stored templates and sample texts on the various data protection topics in the data protection tool. You will find a video introduction to the operation after logging in or under this link.
---
What templates does the data protection tool contain for the list of processing activities?
In our EU GDPR software you will find prefilled templates which you can adapt for your company with just a few clicks. Templates are available for the following areas in particular:
Templates: prefilled documents for the description of your records of processing activities!
Templates for the following areas are available and can usually be used with minimal adjustments:
- New User accounts for IT systems
- Procurement and purchasing
- Candidate management
- Service provider support
- Document Management / Archiving
- Electronic payments
- E-mail usage
- Internet usage
- Customer support
- Personnel file
- Travel expense accounting
- PBX
- Video surveillance
- Website contact form
- Website tracking
- Time/attendance recording
FAQs Privacy Kit
Will I be regularly informed about new topics in data protection?
We will inform you about all relevant changes in data protection in our newsletter. We also offer our clients regular webinars on current data protection topics at no additional cost. You can view these again later in the Privacy Kit.
Is there a minimum contract duration?
With our data Privacy Kit with a one-year contract period, the contract is automatically extended by one year each time if the contract is not terminated in due time.
Is the appointment of a data protection officer included in the Privacy Kit?
Yes, the Privacy Kit includes the appointment of an external data protection officer for your company at no extra charge.
When does a company need a data protection officer?
You have to appoint an internal or external data protection officer if twenty or more employees in your company are entrusted with electronic data processing (e.g. if more than twenty employees work on a PC). You may also be obliged to appoint a DPO if your company is subject to a special case under Article 37 of the EU General Data Protection Regulation.
What are the advantages of an "external" data protection officer?
Benefit from the advantages of an external data protection officer:

• No limitation of liability as with the "internal" data protection officer
• No additional insurance required
• No initial training necessary
• No costs for ongoing training
• Regular terminability in contrast to the internal data protection officer
• Cost and effort optimization especially for small and medium-sized companies
Does the Privacy Kit also include individual consulting services?
The Privacy Kit itself does not contain a consulting quota. If you are interested, our data protection experts will be happy to advise you on your request by e-mail or telephone for an additional charge. The costs are 180 Euro per hour plus VAT.
Can I use my Privacy Kit for advertisement?
Customers of the Privacy Kit are welcome to display it on the website or on flyers. In this way you can show your customers that you take data protection seriously and implement the EU GDPR. We will provide you with an appropriate logo for this purpose.
How do I benefit from a recommendation?
If you successfully recommend the Privacy Kit as a customer, you will receive a one-time discount of 95 Euro (plus VAT) per recommendation on your next invoice. Please use the field "Referral" in the order form for a correct assignment.