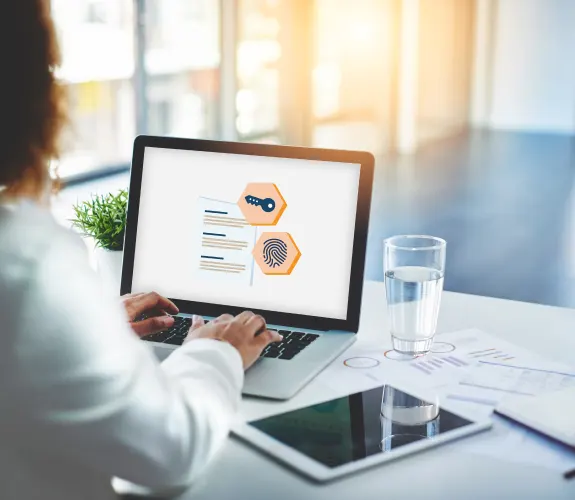 eLearning
Data Protection Courses
Tailored to individual employees
Modules on data protection and IT security
Meet the legal requirements for privacy training
500000
+
training courses conducted

Data Protection Training from the Experts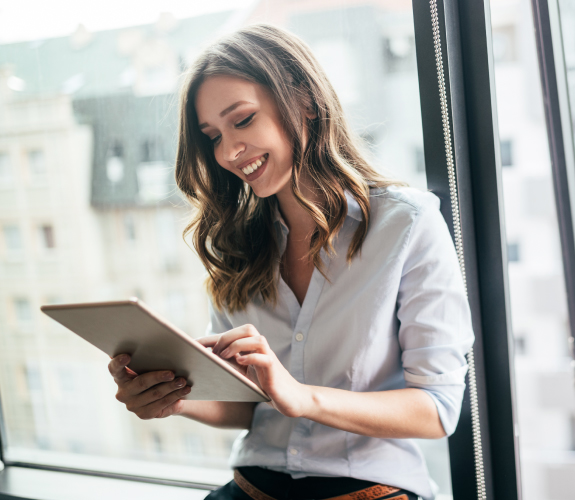 You have the choice of the modules in your own hands. Put together the desired training documents and distribute them to your employees by e-mail. They then decide independently when the respective module is to be used. Thanks to the support of mobile devices, the implementation is possible independent of time and place.
The content of our training modules is also updated regularly. This supports the personal learning success of your employees and minimizes interruptions in the operational process. In addition to the time savings, our data protection eLearning also results in a significant cost reduction compared to face-to-face events. In this way you promote the overall training frequency - especially in decentralized structures - and meet the existing data protection regulations according to EU-DSGVO.
Our eLearning offers on Data Protection
Price overview for our training courses
the benefits at a glance
Why Data Protection Training with IITR?
5 – 15 minutes
time required per module
Transparent documentation
of training participation
Significantly lower costs
compared to traditional, in-person training
German and English
available languages
Legal compliance
in accordance with the EU GDPR
Participant reminders
automatically emailed
The advantages for the company
Use eLearning to prevent data protection violations
Minimal planning involved and significantly lower costs
Customizable online courses tailored to individual employees
Employee participation is transparently documented
The advantages for employees
Stress-free: Work at one's own pace
Take the online courses anywhere, anytime
Compact educational content through top-notch online courses
Obtain a personal certificate of completion
This is how data protection employee training works
1. Registration: contact us for a free test account.
2. Log in: After we have set up your account, you can go to the eLearning platform and request a personal link that lets you log in without a password.
3. Select the training module: Select the courses you want your employeeLearninges to take and enter your employees' email addresses.
4. Online learning: Your employees will receive a link to the data protection courses and can now begin work. You can view the status of their coursework anytime.
GDPR online? Take a look!
Convince yourself of the quality of our online training courses in data protection.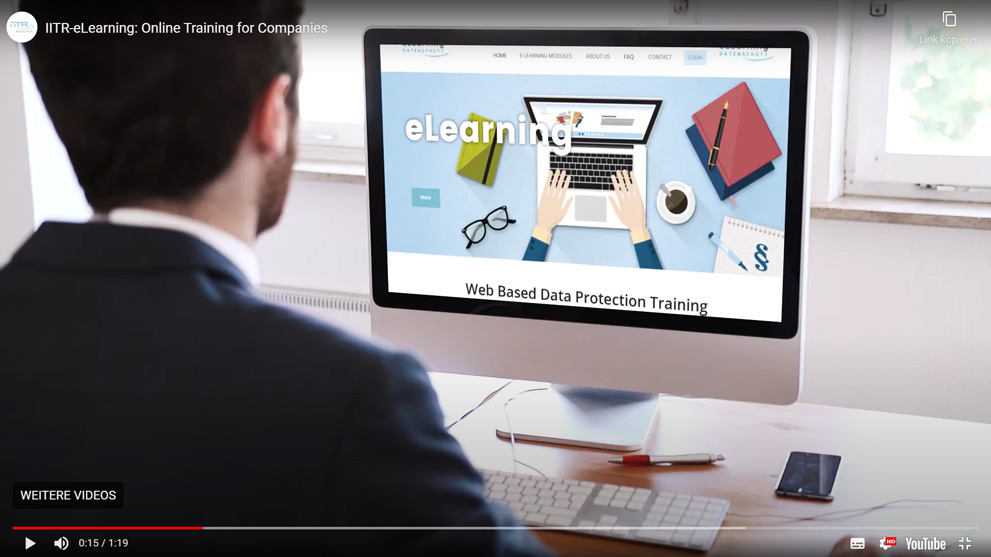 Our Training Modules on
Data Protection and the GDPR
We give you the opportunity to select the right modules for each employee:
Online Training for Data Protection
Introduction of data protection management system
Basic training GDPR
Basic training - Swiss Data Protection Act
Use of personal data
Email use at the workstation
Technical and organizational measures
Video surveillance
Newsletter without consent
Procedure register
Handling applicant data
Outsourced processing
Rights of data subjects
Cooperation with the works council
Rules of conduct in data protection
Response to data breaches
Letter, fax and email advertising
Data protection impact assessment
Home Office and mobile work
Erasing personal data
Data protection for the works council
Online commitments
Commitment to data privacy compliance
Online Training for Information Security
Information security basics
Information security at the workplace
Information security in the employment and service relationship
How to handle information security events and information security incidents
Information-secure onboarding
Information-secure cross- or offboarding
Information security compliant user access management
Using mobile data storage devices securely so you protect your information
Network segmentation Recommendations for action
Patch management for systems
Social engineering – recognizing it and defending your company against it
Using cloud services in compliance with information security and data protection
Cyber-Attacks
IT Monitoring
Firewall
Password Security
Online Training for Occupational Safety
Occupational safety and remote work
First aid
Other Online Trainings
General Equal Treatment Act (GETA)
Request Data Protection eLearning now
Data Protection Training for employees made easy
FAQs about eLearning courses on data protection
Any company regardless of its type and size must train its employees in data protection. It must do this to comply with the requirements of the EU General Data Protection Regulation (GDPR), which stipulate that companies must have verifiable data protection measures in place.
Yes, the data protection training courses can also be taken on tablets and smartphones. Most modules have training videos – this requires audio playback. The videos also give you the option to switch on English subtitles.
Apart from the obligation to train employees in data protection, there is no legal requirement as to how often this should take place. Offering training courses at regular intervals is recommended. One of the main tasks of your internal or external data protection officer is, for example, to organize training courses.
A company employee can go on the platform and issue invitations to participate in online data protection courses.
All emails sent through our platform (invitations, certificates, etc.) are stored in our revision-proof email archive. This is how we, at IITR, guarantee valid legal proof of your employees' participation in the data protection courses.
The invitation is valid for 30 days. Before it expires, the participant receives a reminder. In addition, you can send individual invitations to the data protection courses as well as reminders to your employees.
The contract period is 12 months and is extended by 12 months if no notice is given.
Yes, a training session can be interrupted at any time and restarted at a later time.
Multiple-choice questions are used to question and test your employees about the content.