The data protection kit will guide you through the topics of the EU GDPR easily and in an organized manner.
Included are the appointment of an external data protection officer, the online platform with document management system and templates, and an integrated eLearning module with basic training for educating employees about data protection. Advertising sticker, certificate.
Option 1
Full flexibility
Order with a one-year minimum contract term
€590/year plus VAT
Option 2
Cost-effective data protection
Order with a three-year minimum contract term
1.170,- Euro plus VAT
(this is €390 per year plus VAT)
Features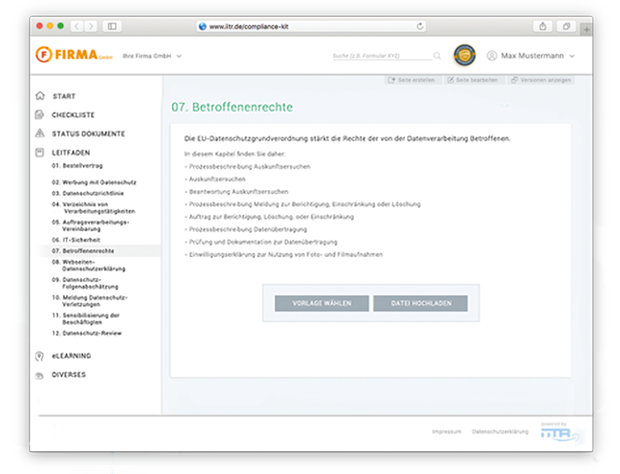 Incl. files with explanatory documents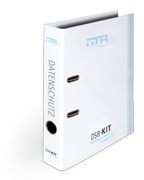 Certification status
See if your company has satisfied all necessary requirements for certification. The audit is performed by the independent IITR Cert GmbH.
Version control
Changes to your documents are saved in accordance with the statutory requirement by means of version control so that they can trace any changes.
Easy to use
The privacy kit provides you with all necessary documents as templates. Any documents that your company already has can be added.
Choice of language
Contents are available in German and English.
eLearning
Access to data protection training for your employees. Employee training is a meaningful requirement under the EU GDPR.

The data protection guideline
The general regulation requires that small companies to create a data protection guideline, which sets down in writing how your company handles data protection.
Overview of all required documents
Maintain an overview of the current processing status of the documents required under EU GDPR, e.g., data processing contracts or procedure registers.
Checklist
This checklist will help you determine and track your current data protection status.


You will receive access to the online platform where you can manage your documents while being assured that you can track any changes and you can send revision-proof online training sessions from the platform.
In addition, we will send you a folder with all documents and templates, a data protection kit certificate demonstrating data protection compliance, an advertising sticker, certificate, and a regular newsletter informing you about legal changes in data protection.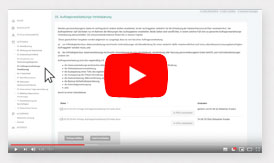 Frequently Asked Questions
Who is this product appropriate for?
The privacy kit is designed for small to medium-sized companies of roughly 20 employees or less.
What issues are addressed?
Templates for the following areas are available:
Data protection guideline
Directory of processing activities
Agreement for outsourced data processing
IT security
Rights of data subjects
Website data protection statement
Data protection impact assessment
Reporting of data breaches
Employee training
Data protection review
What is the process after the order is placed?
After the privacy kit is ordered, you will receive an email with a contract. After signing and returning it to us, we will create your account for the online platform and send you the binder (including countersigned contract, certificate, and advertising sticker). You will receive the access data immediately by email. You can then complete the saved templates and sample texts regarding the various data protection issues in the online platform. You will find a video explaining how to use the platform after logging in or visiting. https://youtu.be/7mbnkfmgugQ.
May I refer to my privacy kit certification when advertising?
If you purchase the privacy kit as a customer, you can certainly advertise this on your website/flyers, etc., to show that you take data protection seriously. We will provide you with the relevant certification logo. You can also of course mention us in agreements with customers, etc.
Who has to appoint a data protection officer?
Companies must appoint an internal or external data protection officer if twenty employees or more are tasked with electronic data processing (i.e., if twenty or more employees work on PCs). The appointment duty may also exist even sooner regardless of the number of employees if one of the special cases under Article 37 EU General Data Protection Regulation applies to your company (e.g., if your core business is based on the processing of health care data).
Can I obtain individual consulting services?
Yes, if you are interested you may purchase consulting services by email or phone at an hourly rate (€180 per hour plus VAT). The privacy kit itself does not include any consulting element.
What are the advantages of an "external" data protection officer?
No liability limitation as with an "internal" data protection officer
No additional insurance needed
No initial training required
No cost for continuing education
Standard termination unlike with an internal data protection officer
No limitation to business operations. An internal data protection officer normally has additional tasks and duties to perform
Expense and labor optimization especially for small and medium-sized companies
Is there a minimum contract period?
The minimum contract period is one year and is automatically extended by one year, unless it is terminated in accordance with the contract.
Which languages are available?
The contents of the data protection kit are available in German and English. On the login page, select the desired language.