Everything in one place
The central online platform for the data protection manual, which is mandatory starting in May 2018. Features include: version-controlled documentation of your processes, the required employee training (including proof of training), and the option to obtain a data protection certificate for your company.
Option 1
1 - 50 Employees
2.190,- Euro
Per Year,
plus VAT
Order
now
Option 2
51 - 100 Employees
3.360,- Euro
Per Year,
plus VAT
Order
now
Option 3
100+ Employees
According to the Offer
Individual
price calculation
Ask for
an Offer
Features
The online platform assists companies with roughly 50 employees or more
in satisfying the EU General Data Protection Regulation.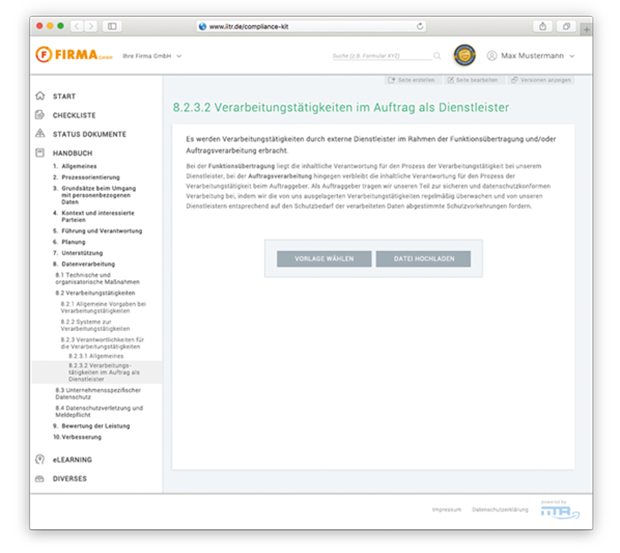 Your own Logo
Multi-client capability
As an external data protection officer, easily manage multiple clients.
Certification status
See if your company has satisfied all necessary requirements for certification. The audit is performed by the independent IITR Cert GmbH.
Version control
Changes to your documents are saved in accordance with the statutory requirement by means of version control so that they are traceable and revision-proof.
Easy to use
The compliance kit provides you with all necessary documents as templates. Any documents that your company already has can be added.
Choice of language
Contents are available in German and English.
eLearning
Access to data protection training for your employees. Employee training is a meaningful requirement under the EU GDPR.

The data protection manual
The general regulation requires all companies to create a data protection manual, which sets down in writing how your company handles data protection. Our manual is based on the ISO High Level Structure.
Overview of all required documents
Maintain an overview of the current processing status of the documents required under EU GDPR, e.g., data processing contracts or procedure registers.
Checklist
This checklist will help you determine and track your current data protection status with optional certification.
Frequently Asked Questions
What does the GDPR Compliance Kit offer?
Templates for compliant processes at the company
Documentation that ensures that all aspects of the EU GDPR are upheld
All data protection documents in a central location
eLearning for documented employee training for data protection
Optional certification
What does the GDPR Compliance Kit cost?
Cost is based on the size of the company. Please contact us for an individual offer.
Who is the GDPR Compliance Kit intended for?
The tool is intended for all companies that need to establish a structure for their data protection processes.
External data protection officers
Internal data protection officers
IT departments
QM managers
Legal departments
Certification companies
Business consultants